The Road to Japan's Best Kept SecretDriver's Expedition Route
Rent a car and travel to some of Japan's most beautiful hidden gems.
Rent a car at Kansai Airport and take a trip through Shikoku's spectacular scenery. Traveling by rental car allows you to visit a wide variety of off-the-beaten-track places at your own pace. With so many beautiful sights along the way, this promises to be the road trip of a lifetime. While you're here, be sure to sample the local cuisine.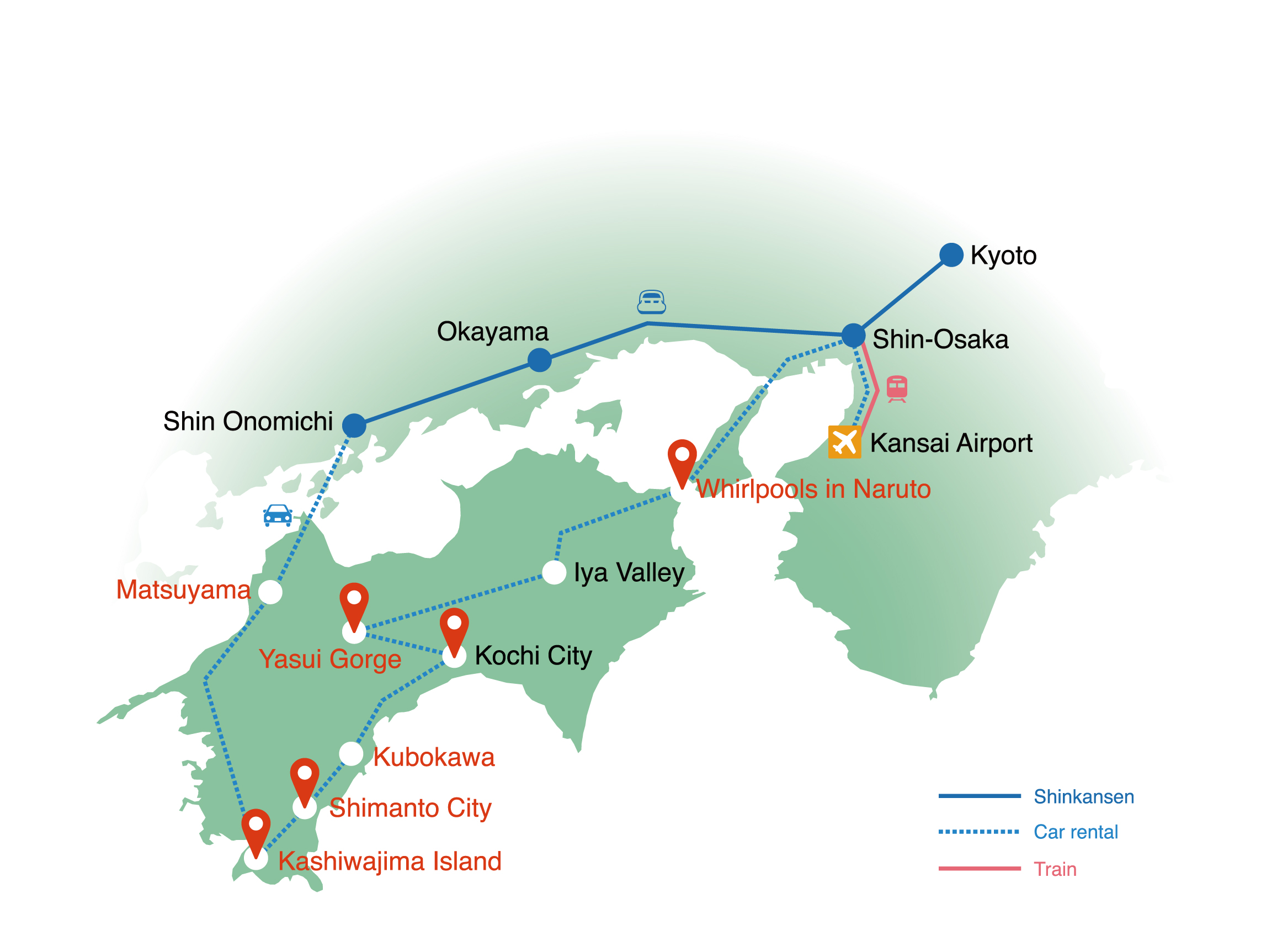 Recommended Itinerary
Day 1
From Kansai International Airport to Tokushima Prefecture
Rent a car at Kansai Airport to start out the trip. After going through Awaji Island, you will enter Tokushima Prefecture. In Tokushima, you can see the Naruto whirlpools, and then visit Iya to stay for the night.

Rent-a-car/ 1 hours 30 minutes driving

Awaji Service Area

The Awaji Service Area, located after crossing the Akashi Kaikyo Bridge from the Honshu side, has a variety of restaurants, cafes, stores, a road information center, and a viewing terrace where you can relax.
Rent-a-car/ 50 minutes driving

Naruto whirlpools

The whirlpool is one of the three largest tidal currents in the world. You can see them from the bridge, or you can experience the impressive force up close on a boat.
Rent-a-car/ 2 hours 10 minutes driving

Iya no Kazurabashi

This suspension bridge is one of the three most unique bridges in Japan. Surrounded by trees, you can look down on the Iya River flowing below.

Stay in Iya Hot Springs
Day 2
The Food Culture in Kochi and Niyodo river area
On the second day, rent a car and drive to Kochi Prefecture. After visiting Yasui Gorge, known as "Niyodo Blue", head to the Aso Chinkabashi, of which the setting of the movie "Belle: The Dragon and the Freckled Princess" was modeled.
After taking in the Niyodo River, go to Kochi City. Grab some food at Hirome Market, where food from all over Kochi Prefecture is gathered in one place.
Iya Hot Springs

Rent-a-car / 2 hours 30 minutes driving
Rent-a-car / 45 minutes drivnig
Day 3
The Shimanto River: the last clear stream in Japan
On the third day, continue west from Kochi City. Be sure to stop by Iwamoto-ji Temple; it is one of the 88 sacred sites in Shikoku, but instead of being bogged down by tradition, the monks at the temple are trying out new ideas all the time. For lunch, we recommend the Shimanto River eel.
In the afternoon, enjoy the Shimanto River by experiencing the activities of your choice.

You can also take the sightseeing train "Shikokutosa Toki no Yoake no Monogatari" from Kochi City to Kubokawa where Iwamotoji Temple is located. From there, you can take the train from Kubokawa to Nakamura Station in Shimanto City, and rent a car at Nakamura Station. The train departs from Kochi Station at 12:04, and arrives at Kubokawa Station at 14:40, so please adjust your schedule accordingly if you wish to use this service. Please be sure to check the website for the latest service status before making a reservation.
Kochi City

Rent-a-car / 1 hour driving
Rent-a-car / 1 hour driving

Lunch (Shimanto River Eel)

Eel from the Shimanto River, the last clear stream in Japan, is delicious. Don't miss your chance to try the wild-caught eel.
Day 4
A spectacular drive through Ashizuri-Uwakai National Park
On the fourth day, take a drive through Ashizuri-Uwakai National Park. In Tatsukushi, you can see unique rock formations and visit Kochi Prefectural Ashizuri Aquarium. After lunch, visit Kashiwajima Island, which has been described as a place where the sea is so clear that "ships appear to float in the air".

From Kashiwajima Island, you can head directly to Dogo Onsen, or if you feel like riding a train, you can take the Iyonada Monogatari sightseeing train from Yawatahama Station to Matsuyama Station where Dogo Onsen is located. The train departs from Yawatahama Station at 16:05 and arrives at Matsuyama Station at 18:17. On the way, you may be able to see a breathtaking sunset at Shimonada Station. Please check the website for the latest service schedule and make a reservation.
Shimanto City

Rent-a-car / 1 hour drivnig

Tatsukushi Marine Park

The area was designated as an official Japan Geopark in 2021. It is lined with extraordinary rocks created by the erosion by the sea winds and waves.
Rent-a-car / 1 hour driving
Rent-a-car / 3 hours driving

Stay overnight at Dogo Onsen
Day 5
Dogo Onsen=> Shimanami kaido => Shin-Onomichi=>Shin Osaka
From Dogo Onsen, drive along the Shimanami kaido to Onomichi. Return the rental car in Onomichi and take the Shinkansen to Osaka.
There is great shopping and food to enjoy when you get to Osaka.
Dogo Onsen

Rent-a-car / 1 hour driving

Shimanami Kaido

This is a 60 km long road connecting Imabari in Shikoku and Onomichi in Honshu. You'll get to fully take in the scenery of the islands in the Seto Inland Sea.
Rent-a-car / 1 hour driving
Shinkansen / 1 hour 30 minutes

Osaka

Osaka's Minami (or South) area is quickly becoming a hot destination for younger travellers as its shopping and nightlife districts have exploded in popularity over the past few years. From the bright and colourful nightlife of the Dotonbori to the cool, refined fashion of Horie, the Minami area has much more to offer you than just its spectacular food.
Day 6
Head home from Kansai International Airport
On the last day, enjoy shopping in Osaka until departure time.
Osaka

Train / 1 hour

Kainsai Airport