The Road to Japan's Best Kept SecretBlue Expedition Route
From Kansai to Kochi: A cultural journey.
Make your way to Kochi Prefecture from Kansai International Airport, making an interesting stop in Okayama. Take in Kochi's sightseeing spots and see with your own eyes why the blue waters of the Niyodo River have become a nationally-known brand. On the way back to Kansai International Airport, you will visit Tokushima and enjoy the impressive whirlpools of the Naruto Strait and explore the region's culture of traditional indigo-dyeing.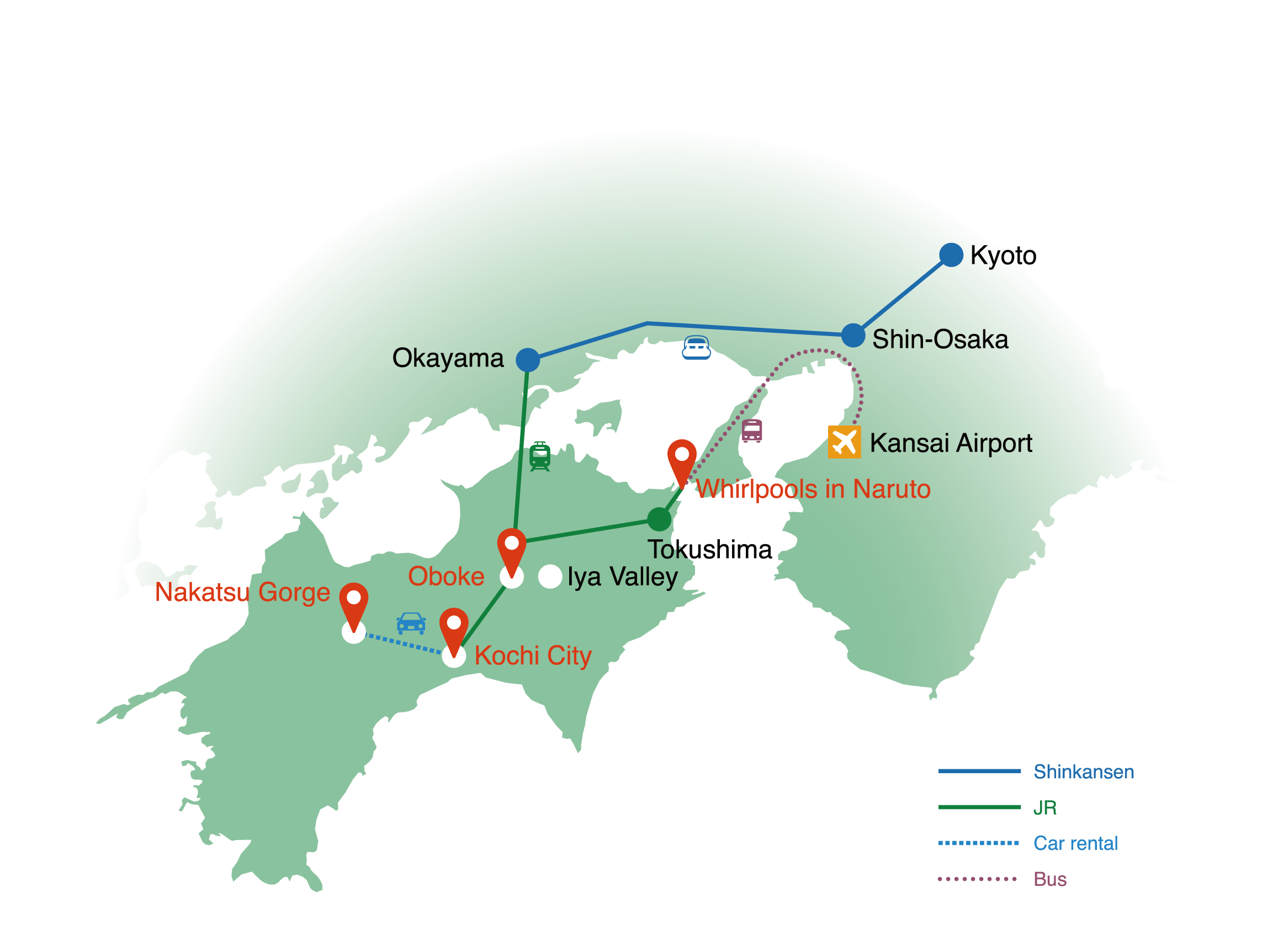 Recommended Itinerary
Day 1
Beginning of the trip
A direct flight to Kansai International Airport from Thailand's Suvarnabhumi Airport takes about 5.5 hours! From there, you will take the JR limited express train to Shin-Osaka, then transfer to the Shinkansen to Okayama Station! It only takes about 2 hours from Kansai International Airport to Okayama! Okayama is nicknamed Fruit Kingdom for its fruits harvest!

JR / 60 minutes
Shinkansen / 45 minutes
JR / 20 minutes

Taxi / 10 minutes

Day 2
Enjoy the heart of Kochi City
You will visit sightseeing spots within walking distance from Kochi Station. It takes about 20 minutes to walk to Kochi Castle and you can also go there by streetcar. It takes less than 10 minutes to walk from Kochi Castle to Hirome Market! From there, another 10 minutes walk will take you to Otesuji Enbudou. There is a shopping street on the way and it is very fun to walk around.
Day 3
Expedition of "the blue" of Kochi
Go to the Niyodo River for clear-kayaking and the Nakatsu Gorge to enjoy the blue of Kochi. Going by a rental car is recommended. It takes about an hour to Outdoor Center, where you can try clear-kayaking on the Niyodo River. The Nakatsu Gorge is about 10 minutes' drive from Outdoor Center.
Rental car / 70 minutes
Rental car / 15 minutes
Rental car / 70 minutes
Day 4
To deep mountains of Shikoku
You will visit "Oboke Koboke", which lies on the border of Kochi and Tokushima Prefectures!! It is a beautiful canyon that took about 200 million years to form. It takes about 50 minutes by JR limited express from Kochi Station. The scenery on the way is also beautiful.
JR / 50 minutes
Walk / 20 minutes

Oboke pleasure boat

You can fully enjoy the scenery of Oboke on a 30-minute sightseeing boat ride.
*It is very cold on board, so warm clothes are a must.
Bus / 40 minutes

Iya no Kazurabashi

One of the three unique bridges of Japan The bridge swings with every step you take and it is very thrilling!
Day 5
Expedition of "the blue" of Tokushima
Whirlpools, a magnificent view created by nature!
It is a tourist destination that you cannot miss when you go to Tokushima! It is about 50 minutes' bus ride from Tokushima Station. If you make a round trip by bus, the all-day ticket is cheap and convenient!
You can try indigo-dyeing at many places, so pick up the one that is convenient for you while going around!
JR / 2 hours 40 minutes

Bus / 60 minutes

Naruto Whirlpools

You can see whirlpools twice a day, in the morning and in the afternoon.
If you're lucky, you may even see a whirlpool about 20 meters long.
Bus / 60 minutes

Indigo-dyeing experience

You can dye a handkerchief, scarf and etc.
This time I wore clothes dyed with Thai indigo and tried Tokushima's indigo-dyeing.
Day 6
Finally the last day
You will go to Kansai International Airport by bus. There is a direct bus from Tokushima Station to Kansai International Airport. You can enjoy the scenery of the Naruto Ohashi, the Akashi Kaikyo Ohashi, and Kobe during the three-hour bus ride.

Bus / 3 hours

Kansai International Airport